Culture
Wine Talk: Pablo Sáinz-Villegas talks about wine, music and his festival in Rioja
By Kenny Martin, Wine Spectator, Published May 19, 2023
Growing up in Logroño, in the heart of Rioja, acclaimed classical guitarist Pablo Sáinz-Villegas was surrounded by wine from an early age—though his first taste of Rioja wasn't a gran reserva, but a vino joven served with tapas. Since then, he has performed around the world with greats like Plácido Domingo and recorded multiple albums. And his musical and vinous lives have been intertwined. He oversees La Rioja Festival, more than a week of concerts, wine tastings and culinary experiences showcasing Rioja's cultural heritage.
To Sáinz-Villegas, music and wine are part of the same emotional landscape: "They're about senses, about subtleties, about enjoying those hedonistic parts of experience that make life more beautiful."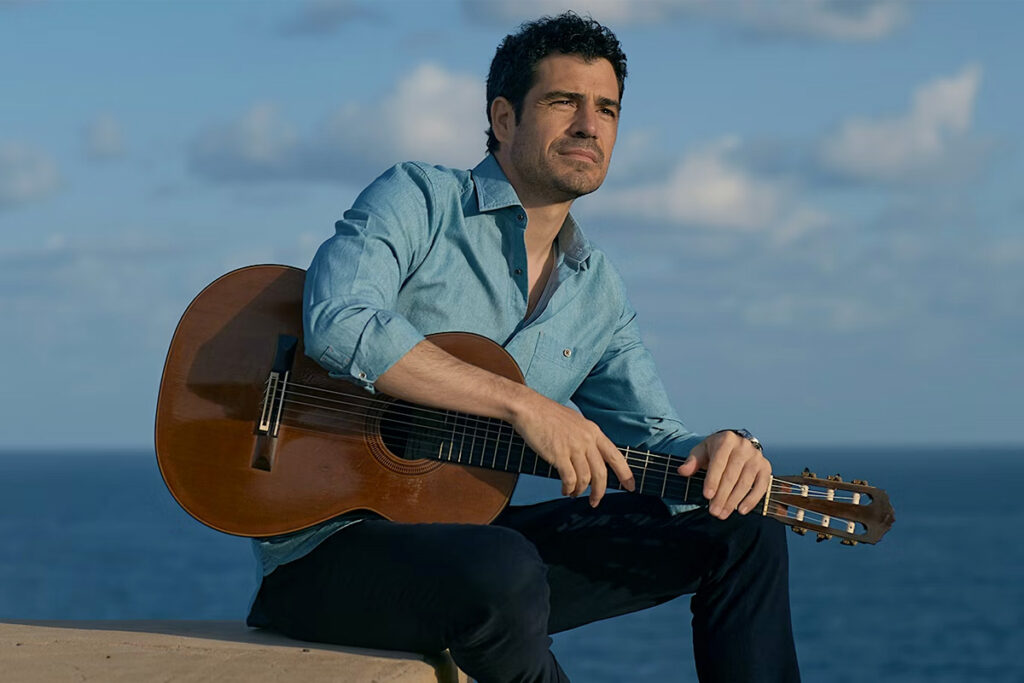 Sáinz-Villegas will play Joaquín Roderigo's Concierto de Aranjuez at Festival Napa Valley's opening concert on July 14, at Charles Krug winery. The festival's 17th summer season also features country star Carrie Underwood, singer Matteo Bocelli, a performance of Donizetti's Don Pasquale and much more, including events at Nickel & Nickel, Quintessa, Duckhorn and others.
Sáinz-Villegas chatted with editorial assistant Kenny Martin about his introduction to the wines of Rioja, the emotional connections between wine and music, and more.
Wine Spectator: What was it like growing up in Rioja?
Growing up in Rioja means being around wine culture. Wine is part of our history and cultural identity, and it's very much still a family tradition. The landscape is defined by grapevines, and that creates a spectacular view throughout the different seasons, especially fall. You grow up with all these emotional impacts of the landscape when you're a kid, but you take it for granted, all that beauty.
How are wine and music linked in Rioja?
There's a type of traditional folk music called jota, which is played during the festivities celebrating the wine harvest during the feast of San Mateo. It's a whole show: There are mandolins, guitars, singers and snare drums. You sing, you dance, and usually there is a solo singer—traditionally a farmer, and they have these noble, deep voices. It's about giving thanks for the harvest and celebrating with wine, and it's been like that for thousands of years.
What sorts of wines do you collect?
I have a bigger wine cellar in Madrid, and a smaller one in New York, and I mostly collect wines from Rioja. I used to be a cultural ambassador for Bodegas Vivanco and their Museum of Wine Culture, and I maintain a wonderful relationship with them. I basically have all the different wines they offer, and then I always have some Fernando Remírez de Ganuza because those are some of my favorites. I love Bodegas Muga—you can't go wrong with Muga. I'm also fond of Bodegas Roda, Ramón Bilbao and many others.
What makes the wines of Rioja special to you?
In Rioja, you feel the soil, the terroir—there is something earthy and passionate, and you can feel the personality of the family that has dedicated itself through the centuries to that wine. You sometimes even get a quite raw impression of the wine. They have such a strong sense of personality, which I identify with. I think it's good that a bottle of Rioja tastes like Rioja, Napa tastes like Napa and Bordeaux tastes like Bordeaux. That sense of place enriches the wine world very much.
Tell us about your La Rioja Festival, which is now in its second year.
It's the largest classical music event in Rioja, and it's a project of experiences that revolve around wine, gastronomy and nature, including the Camino de Santiago and various cultural heritage sites. We harmonize all these different elements with music, and ticket sales support music education for students in the region.
This year, a group visited from California, including winemakers and chef Charlie Palmer, who curated a personalized experience around food, music, wines, nature and cultural sites. We've also created a nonprofit to create a kind of sister city relationship between Rioja and California wine country. The idea is also to give back to the Napa and Sonoma regions and collaborate with local foundations that are focused on the guitar and music in general.