News
Rioja Wines Makes The Best Rosé Wines to Drink in 2021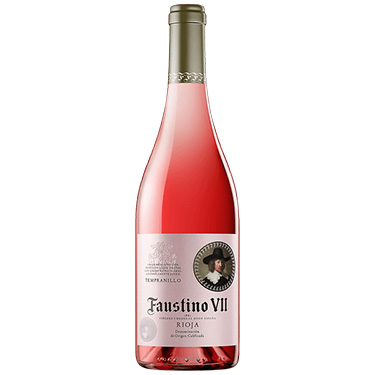 This 100% tempranillo has an intense color almost reddish in hue. It is crisp and bright. Plenty of berry and red plum notes. Lingering finish. Perfect summer pairing with cold cuts, cheeses, cold chicken or quiche. ($10.99)
Bodegas Faustino
¨Tradition is not inherited, tradition is conquered¨ is a statement that defines Bodegas Faustino – its philosophy, work, and history. We are proud of our heritage and know-how, the unique experience that 4 generations and over 150 years of passion can provide.
(90) CVNE Vina Real 2019 Rosado (Spain)
This Rioja rosé is a blend of 75% viura, 15% tempranillo and 10% garnacha. It is a bright-pink-to-salmon color in the glass with plenty of body for a Rosado-style wine. On the nose, slightly musky notes of flint and mineral are present with flecks of strawberry and other red fruits. The strawberry notes are confirmed on the palate and balanced by a clean, mineral and saline finish with some length. Great for spicy Asian cuisine or a grilled salmon salad. ($12.99) BD
Cvne, is situated in Rioja in the traditional neighborhood of the station, where the oldest wineries of Rioja Alta established themselves, for the main reason of transporting their goods to the port of Bilbao.
In 1879, two brothers decided to set up a business in the recently flourishing trade of the wine business. C.V.N.E., Compañía Vinicola del Norte de España (The Northern Spanish Wine Company) or la Cuné, as it is commonly known in Haro, was created. This cellar still reflects the origins of the company and is kept in the traditional neighborhood of the Haro station.
The Cune winery in Haro, is made up of a group of buildings, mostly from the 19th century and arranged around a courtyard surrounded by pavilions for the purpose of wine production, aging, and bottling.
Cheers Magazine is a business publication for full-service restaurants and bars.
They serve decision-makers within independent and chain restaurants, hotels, and other on-premise establishments with information to help these operators drive revenue.
Each issue of Cheers is packed with ideas and best practices, from the latest beer, wine and spirit products news to bartending techniques to food pairings to staff training and customer service. Cheers also offers exclusive data from its sister company, The Beverage Information & Insights Group, to help beverage managers stay ahead of the trends and industry developments.
Shop Rioja via Drizly
Check out Rioja at riojawines.com
Trade: go.sevenfifty.com