News
Beyond Reds – Rioja Wine Virtual Wine Tasting
Beyond Reds, Rioja's Exciting Whites and Rosés are Ideal for Summer Sippin
We love our reds. We also love when others love our beyond reds as well.
Our Rioja Trade Team and with support from  the Calificada DO in Spain recently, as part of a Zoom presentation for U.S. wine media and trade, curated and produced an exclusive virtual tasting. Multiple versions of our chillable wines were sampled with food from Manhattan's Seamore's restaurant.
Our virtual luncheon started with a salad of kale, avocado, walnuts, and sweet potato, followed by three fish dishes prepared with tuna, shrimp, and lobster. To go with each course were two wines, a white and a rosé, from three of Rioja's top producers: CVNE, Bodgas Ontañón, and Bodegas Valdemar. We had family members from all three wineries were on hand during the online discussion.
Please see a detailed write-up from one of our favorite and most talented wine authors in North America–The Wine Chef. Lisa Denning.
Reposted content from www.thewinechef.com.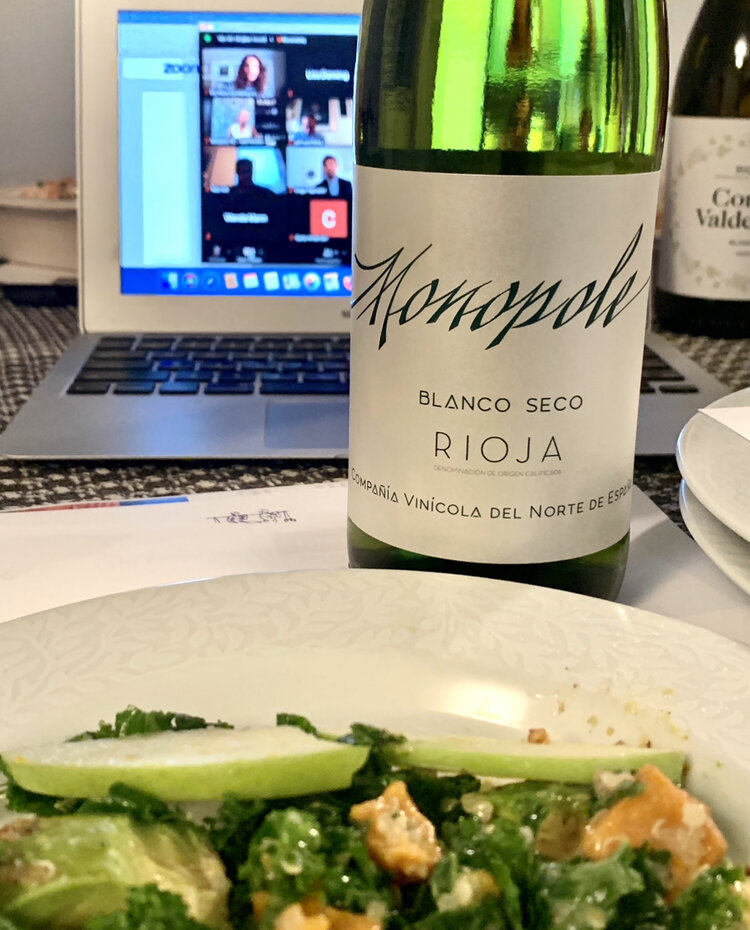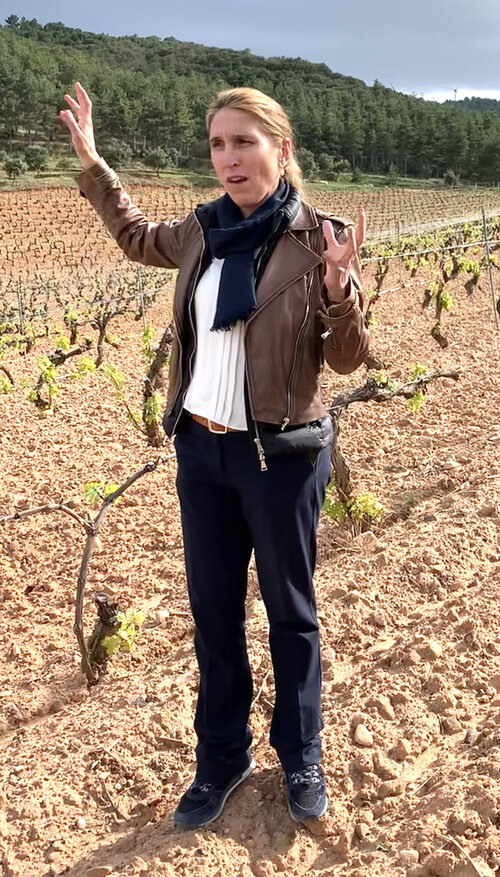 Six Rioja Summertime Wines
CVNE (Compania Vinicola del Norte de España), a family-owned winery in the Rioja Alta subregion, has been a benchmark for classic Rioja wines since 1879. Fifth generation Maria Urrutia, now running the winery with her brother Victor, told us that CVNE's goal is to produce drinkable wines that can be enjoyed all year long.
CVNE Monopole 2020 ($14). Made from 100% Viura, this young and fresh Rioja white has a zippy acidity and was a great start to the luncheon, pairing perfectly with the salad. And the Monopole is Spain's oldest white wine—on the scene since 1915!
"We've been producing white wines since the beginning," said Urrutia. "It's not something we've suddenly started doing." She said that back in those days the production of white and red wines at CVNE was 50/50. "It's crazy to think now," she says. "We have several different white wines but they're a small percentage of all the wines we make."
CVNE 'Cune' Rosado 2020 ($14). Made from 100% Tempranillo, the wine's color is classic Rioja rosé; a bright strawberry red color with copper tones.
"It's got great freshness," says Urrutia. "It's drinkable and enjoyable and when you put it on the table, the bottle is finished." She told us that although their style of rosado, produced for over 100 years, is more rustic, with stronger fruit than today's popular Provence rosés, it remains in-demand, especially throughout Spain. "We're not trying to compete with Provence," she said. "It's a wine to be drunk all year long and with the whole meal."
Bodegas Ontañón is another family-owned winery whose beautiful winery sits high in the Sierra Yerba mountains within the Rioja Oriental subregion (formerly called Rioja Baja).
Fourth generation winemaker Raquel Perez Cuevas was on hand to explain what she calls a revolution of white wine in Rioja. Like CVNE, the production of red and white wines at Ontañón used to be 50/50, but today red wine makes up about 85%. However, Cuevas says that more people are drinking whites and that the percentage of these wines is growing.
Ontañón Vetiver Viura 2017 ($14). A barrel-fermented, barrel-aged 100% Viura, the wine's first vintage was in 1997 when, according to Perez Cuevas, Spaniards only drank red and rosé wines. At the time, it wasn't distributed in the U.S. and she says they didn't sell a bottle of it in Spain.
"Spanish people weren't interested in whites," says Perez Cuevas. "They would only drink very simple, fruity, uncomplicated reds. So when we made this wine it was a total disaster." Fortunately, the winery's distributors in Belgium and England recognized the distinctiveness of the wine, often compared to white Burgundy, and helped to get the word out.
Perez Cuevas says there is much more interest in whites now. "White wines from Rioja are having a revolution," she says, "and Viura is the pioneer variety, but people are also passionate about Tempranillo Blanco and Maturana Blanca too."
In addition to these three varieties, other white grapes are permitted in the making of Rioja whites: Malvasia de Rioja, Garnacha Blanca and Turrentes de Rioja, as well as Chardonnay, Sauvignon Blanc and Verdejo.
Vetiver Viura is a full-bodied wine with floral, peach and tropical (melon and pineapple) notes that are balanced by crisp lime, grapefruit and lemon zest flavors. Its time spent in barrels gives it a touch of spice and helped make it a great partner to all of the fish dishes.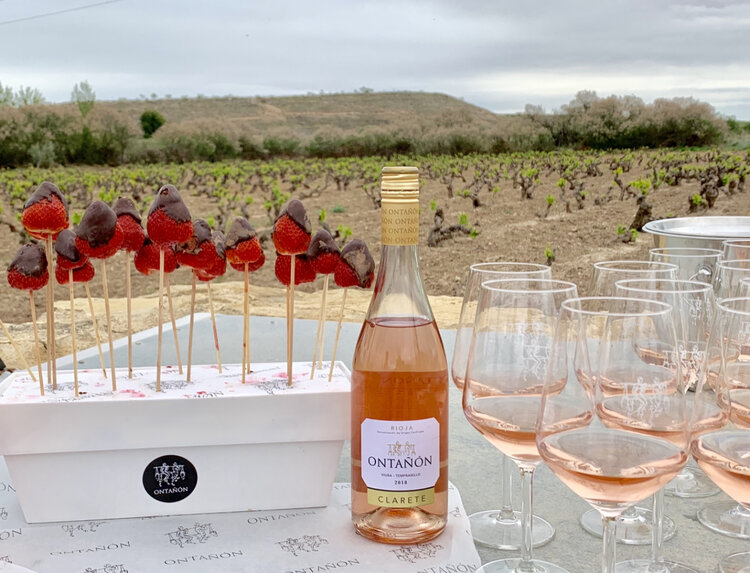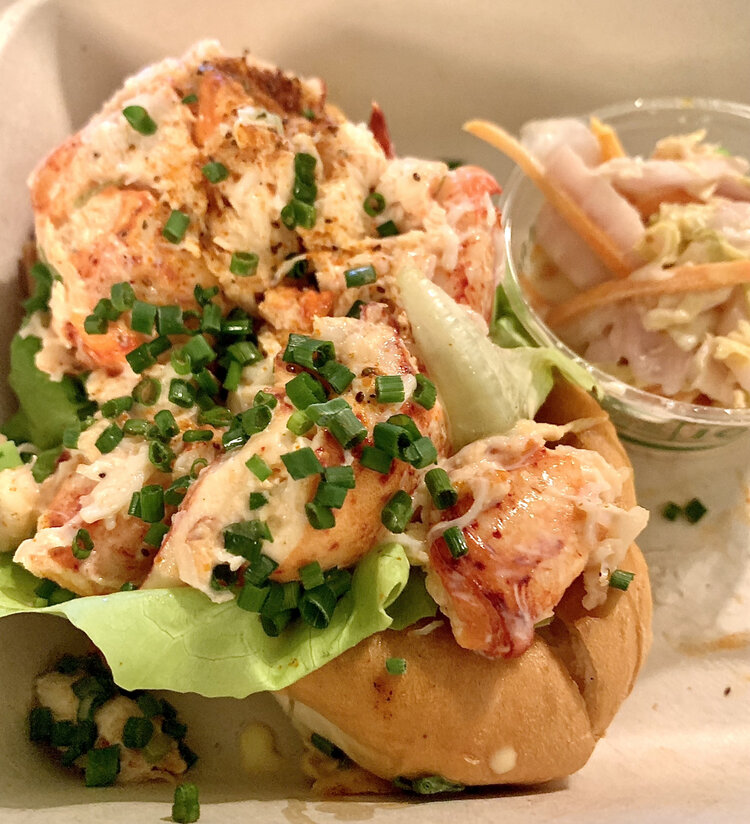 Ontañón Clarete 2020 ($13). Clarete, a type of rosé wine with a long history in Rioja, was traditionally made for the family to drink at home. Unlike classic rosé which obtains its pink color by the use of red varieties and a short time of skin contact, clarete is a blend of mostly white grapes (and some red) and is vinified like a red wine—with fermentation on the grape's skins. The pale color of Ontañón's Clarete comes from the high percentage of Viura (75-80%), with the remainder being red Tempranillo grapes.
Due to this process, Perez Cuevas says that there is more depth and volume to the wine even if it is delicate at the same time." The wine's fresh red berry aromas are balanced by zesty citrus notes and a brilliant acidity, making this wine a great summer sipper. I really loved this wine with the tuna poke dish and it would also go well with rice and pasta dishes made with seafood.
Bodegas Valdemar, also a family-owned business, has been located in the Rioja Alavesa subzone for over 130 years. The family has a history of making single varietal white wines as well as barrel fermented whites (they produced the very first one in Spain).
A recent project of the family is the first non-American winery in Washington State, Valdemar Estates, located in Walla Walla. Jesús Martínez Bujanda, fifth generation and working with his sister Ana and father Jesús, joined the online conversation from their winery in Washington State.
Conde Valdemar Blanco 2020 ($17). This aromatic white wine is a blend of 60% Viura, 25% Tempranillo Blanco and 15% Malvasía.
"We do a lot of different styles of whites and I think that's the beauty of white wine in Rioja," says Martinez Bujanda. "It's mainly Viura, usually around 60 to 70%, but we also like to blend in a little bit of white Tempranillo, sometimes a little Verdejo or Malvasia and sometimes even a little bit of Sauvignon Blanc."
Martínez Bujanda has great respect for the Viura grape. "It has a beautiful body, and great acidity and freshness," he says. "But if it's too young or not barrel fermented it can lack a little bit of complexity in the nose. The other varieties add richness and complexity to the aromas." Indeed, this white wine is well balanced with a great freshness and lovely floral aromatics intermingled with hints of pear, melon and almond. It was the perfect foil to the rich and buttery lobster roll.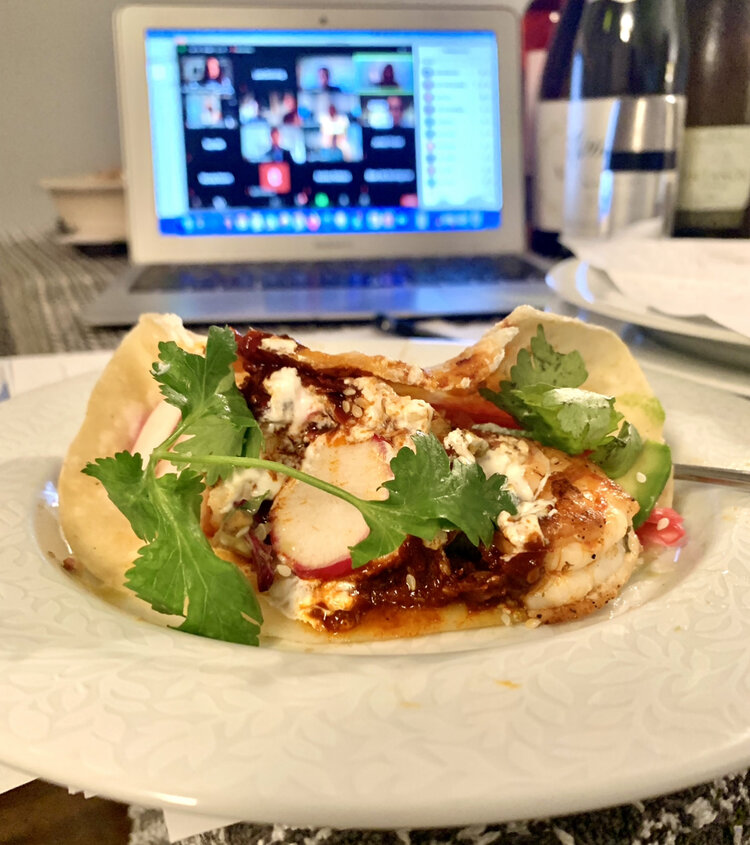 Conde Valdemar Rosé 2020 ($13). In the past, Bodegas Valdemar made a more traditional, dark-colored rosé like the one from CVNE, but due to market demand for lighter rosé, they now solely make this more delicate style. The wine is mainly Garnacha, with some Mazuelo (75% Garnacha, 25% Mazuelo—and most other years they blend in Viura as well) and has a delicate, pale pink color with violet hues and floral aromas, along with hints of red fruit. A subtle, fruity, nicely balanced rosé, delicious with grilled shrimp tacos.

It's well worth looking for these exciting, value-driven whites and rosés. All three producers agreed that the category is an important and growing component of this storied region's winemaking.