News
Rioja is in the top six wine regions to visit in 2023 and beyond
By Wandereater.com Angela Aiello | Published: March 21, 2023
Rioja is one of Spain's most renowned wine regions, and for a good reason. Nestled in the north of the country, the region is home to some of the world's most celebrated wineries and vineyards, producing some of the most exceptional wines in the world. If you're a wine lover, visiting Rioja should definitely be on your bucket list.
Recently, Wandereater featured Rioja as one of the top six wine regions to visit in 2023 and beyond. And it's easy to see why. From its stunning landscapes to its rich cultural heritage, Rioja offers visitors a truly immersive wine-tasting experience that is hard to beat.
One of the most striking things about Rioja is its diversity. The region is split into three sub-regions – Rioja Alta, Rioja Baja, and Rioja Alavesa – each with unique microclimate and soil types. This diversity makes for a vast range of wine styles, from the full-bodied and intense Tempranillo-based reds of Rioja Alta to the lighter, fruitier Garnacha-based wines of Rioja Baja.
But Rioja isn't just about wine. The region is steeped in history and culture, with ancient wineries and charming medieval towns waiting to be explored. Stroll through the picturesque town of Laguardia, where narrow streets wind through centuries-old buildings, or visit the impressive walled city of Logroño, the region's capital.
Of course, no trip to Rioja would be complete without visiting some of the region's wineries. Many of the most renowned wineries offer guided tours and tastings, giving visitors an insight into the winemaking process and a chance to sample some of the finest wines in the world. Some must-visit wineries include Bodegas Muga, Bodegas Marqués de Riscal, and Bodegas López de Heredia.
If you're looking for a genuinely unique wine-tasting experience, Rioja is the place to be. Whether you're a seasoned wine enthusiast or just starting to explore the world of wine, Rioja offers something for everyone. So why not add it to your list of must-visit wine regions in 2023 and beyond?
Rioja is also home to some of Spain's most celebrated culinary delights. The region is known for its traditional recipes, such as the famous Riojan-style tortilla and delicious cured meats like lomo embuchado and chorizo. But it's not just traditional dishes – Rioja's wineries often serve tasty tapas and modern creations that tantalize the taste buds.
So, if you're looking for a genuinely unforgettable wine-tasting experience, Rioja should be at the top of your list. With its stunning landscapes, rich cultural heritage, and world-class wines, Rioja is one of the best wine regions in Europe. So don't miss out – add Rioja to your must-visit wine regions.
Where is the Rioja Region?
Wines with a DOCa Rioja designation are made from grapes grown across three different autonomous communities in North Central Spain: La Rioja, Pais Vasco, and Navarra. The source of much confusion, DOCa Rioja doesn't cover La Rioja in its entirety. The vineyards included in the DOCa designation are planted near the Ebro River in the northern section of the community, which spans 62 miles. About 69 percent of the grapes grown for Rioja DOCa wines are planted south of the Ebro in La Rioja. The remaining vineyards are found north of the river and split between the Pais Vasco province of Alava and Navarra.
Adding further confusion, DOCa designated vineyards are split into three distinct growing zones: Rioja Alavesa, Rioja Alta, and Rioja Oriental (formerly Rioja Baja). DOCa Rioja wines can be blended with grapes grown in two or more zones, although single-zone wines are also becoming popular.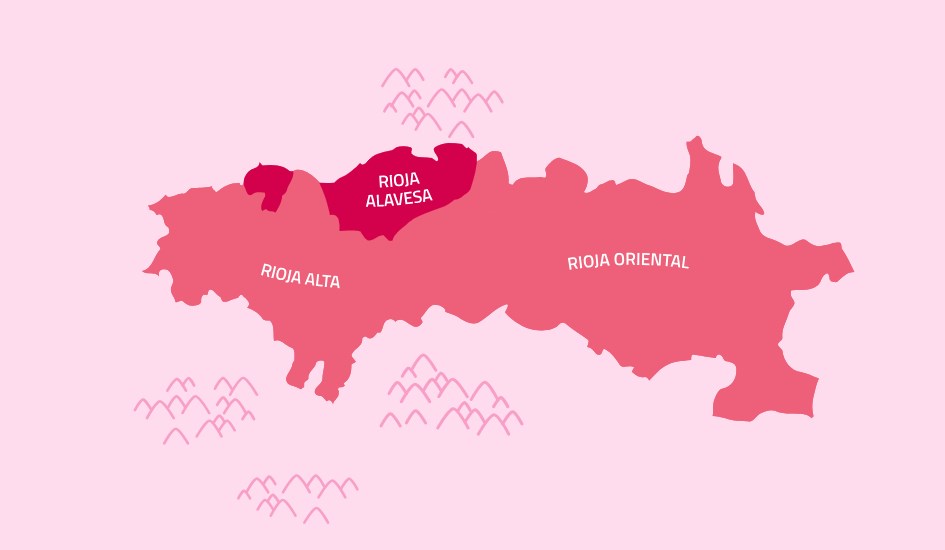 Source: vinepair.com
The Ultimate Guide To Rioja Wine | The Wine Society
There is a wealth of historic producers, many of whom have been making wine for centuries. Still, recently the region has seen the arrival of a new wave of ultra-modern bodegas that are pushing the boundaries and taking the wines to even greater heights.
As a result, Rioja has a wonderful variety of styles. The area's geography is also a contributing factor, spanning a terrain that stretches 75 miles from northwest to southeast resulting in diverse climates, topography, and soil types – all of which further influence quality and wine style.
Source: thewinesociety.com
Geography
Rioja is divided into three zones:
Rioja Alta is located in the western, higher part of the region and includes the winemaking town of Haro, home to many of the best Bodegas (Muga, CVNE, La Rioja Alta, Roda). The vineyards lie high on the slopes of the Sierra Cantabria (up to 800 meters), resulting in grapes that ripen late yet retain lively acidity making for wines that can age well.
Rioja Alavesa, further east in the Basque country, shares many of the characteristics of Alta in that its vineyards grow some of the region's best grapes, particularly around the towns of Laguardia and Elciego. Alavesa's red wines are marked by their purity of fruit and beguiling scent.
Further south, in the eastern section, is Rioja Oriental, where Garnacha flourishes in the hotter, more Mediterranean climate.
Source: thewinesociety.com