Culture
Where the Heart of Wine Beats – Grilled Carrots Wine Pairing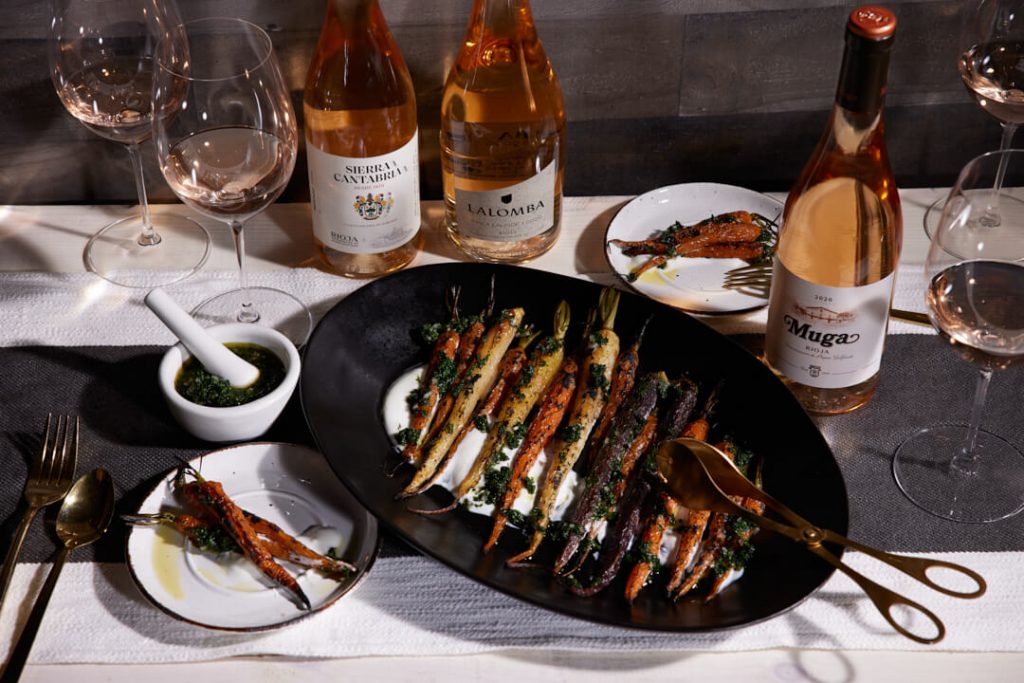 This grilled carrots with yogurt dish simply sings when paired with a lovely Rioja Rosado. From pale pinks to deeper-hues, it's always gorgeous in the glass and perfect on the palate.
Grilled Carrots & Yogurt Ingredients:
1 Bunch of rainbow carrots (with tops)
Olive oil
Salt & pepper
Plain Yogurt (for serving)
Instructions:
Trim carrots and leave 1" of top attached. (Set remainder of tops aside for sauce)
Wash carrots, do not peel.
Toss carrots with olive oil, salt and pepper.
To Cook:
Preheat oven to 450°F
Place seasoned carrots on a sheet pan and cook on the top rack of the oven for 11 – 15 minutes, turning carrots every 4½ minutes.
Boil the tops for 2:30 minutes in lightly salted water, drain and squeeze dry.
Chop finely and mix with enough olive oil to make it loose and spoonable.
To Serve:
On a platter, spread a generous amount of yogurt and place carrots on top.
Garnish with carrot top mix.
Featured Wines
2020 Muga Rosado – Bodegas Muga – Buy USA
Sierra Cantabria Rosado – Sierra Cantabria DOCa Rioja – Buy USA
2020 'Lalomba' Finca Lalinde Rosado – Bodegas Ramon Bilbao – Buy USA