Culture
Basque-Ing In Spanish Wines
By Doug Paulding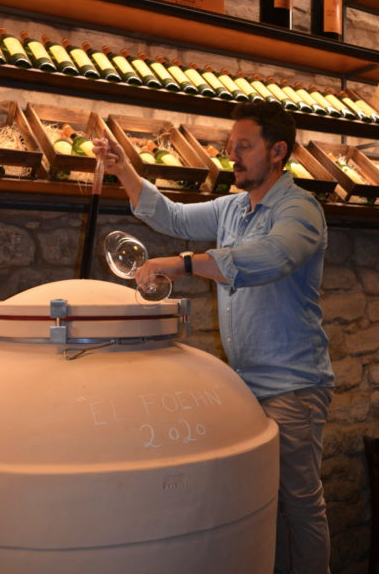 I haven't traveled internationally since my trip to Umbria, Italy, in late February 2020 when Covid was about to close the world. But with vaccines, boosters and virus knowledge, it has felt relatively safe to travel again. So when the Spanish Tourism Board reached out and asked me to participate in a media trip to the Basque country and La Rioja wine region of Spain, I replied with an unequivocal, enthusiastic "yes."
I want to share with everyone the demystification of the Spanish wine label. Learn one simple trick and you can pick a high-quality wine for a particular price point. On the back of La Rioja wines is a simple color-coded label that tells you if, and how long, it was oak-aged and how long it rested (by law) in the cellar before release….
The Spanish classification system is important, because it establishes by law what is required to become reserve or gran reserve. But there's more. Each wine needs to be blind-tasted by a professional board to determine if it meets the specific standard to get the seal.  It takes precise vineyard management, reduction of harvest yields for better grapes, highly evolved winery practices, time, space and expensive oak barrels to bring these wines to market. I visited Total Wines in Norwalk and bought a few Rioja wines up and down the classification system. A 2017 Marqués de Cáceres Crianza is priced at $13.  I found two 2016 Reservas — the Coto de Imaz, which retails for $24.50, and the Muga for $43. Of the two Gran Reservas, a 2013 Viña Alarde sells for $30, while the 2015 Coto de Imaz is $27.50. The 2014 Torre Muga "Author wine" (green stamp on back) is $100.
La Rioja region has so much more than just exceptional wines. There are 21 Michelin-starred restaurants, dramatic churches, cathedrals and monasteries dating back centuries, walled cities and old town historic sections of modern cities, The Camino de Santiago (the Way of St. James the Greater) is a network of ancient pilgrim routes across Europe culminating at the Cathedral of Santiago de Compostela in Galicia in northwest Spain. Bike trails, golf courses, pintxos (snacks) and tapas restaurants also abound.
I'm still happily recovering from the trip of a lifetime.