Culture
August 28th is National Red Wine Day
Cheers to national red wine day. Every day seems like a great day to celebrate red wine. That being said, August 28th is "National Red Wine Day," so we thought you might like to celebrate with some Wines from Rioja.
La Rioja Alta 2012 Viña Arana Gran Reserva (Rioja); $48, 94 points. Dry oak aromas are the greeting, and this smells earthy and cheesy in a classical way; along with that, this offers ripe scents of raisiny berry fruits and vanilla. A full palate is rich while holding on to its balance. Flavors of balsamic plum, berry fruits and tobacco finish bold more than fine and elegant. Drink through 2032. Skurnik Wines. Cellar Selection. —Michael Schachner
Bodegas Tobía 2014 Óscar Tobía Gran Reserva (Rioja); $50, 93 points. Foresty berry and spiced black cherry aromas blend with notes of dried fruits and pipe tobacco. A supple palate is full and resolute but charming, with smooth tannins and a welcome pop of lively acidity. Integrated flavors of plum, currant and peppery spice are supported by creamy vanilla oak through the finish. Drink through 2031. Tri-Vin Imports. —Michael Schachner
Campillo 2016 Crianza (Rioja); $25, 92 points. Tight-fisted plum and currant aromas are punchy, while this crianza from a great year excels across a lively palate. Spicy plum and currant flavors play out on a finish with cracked pepper notes and lingering acidity. Drink through 2025. Pacific Highway Wines & Spirits. —Michael Schachner
Muga 2015 Reserva Unfiltered (Rioja); $30, 92 points. Earthy black fruit aromas are warm and ripe. Befitting a reserva from a hot year like 2015, this is big-bodied and flush, with flavors of toasty oak, chocolate and mixed berry fruits. Ripeness is not lost on a finish with mild heat. Drink through 2023. Jorge Ordóñez Selections. —Michael Schachner
CVNE 2014 Cune Gran Reserva (Rioja); $42, 91 points. Woodsy raspberry and currant aromas are dry and distant, while this gran reserva from a difficult vintage feels solid and gets the job done. Toast, coffee and wood spice notes accent raspberry and plum flavors, while a steady finish is dry feeling and tastes lightly spiced. The future is now for this. Drink through 2023. Arano. —Michael Schachner
Marqués de Cáceres 2015 Reserva (Rioja); $31, 91 points. Cassis and raisin aromas announce a fully ripe, warm-year reserva with enough acidic kick on the palate to ensure balance. Blackberry and baked plum flavors benefit from said acidity, while finishing notes of cured beef and baked berry fruits confirm that this a ripe-style Rioja. Drink through 2024. Vineyard Brands. —Michael Schachner
El Coto 2015 Coto de Imaz Reserva (Rioja); $22, 90 points. Grainy American oak aromas of vanilla mixed with lightly spiced red fruit notes form a classic Rioja nose. A tight palate with wiry acidity is pointy as it delivers flavors of vanilla, dill, plum, red currant and wood spice. Oak is the prime player on the finish. Drink through 2023. Opici Wines. —Michael Schachner
Lopez de Haro 2017 Crianza (Rioja); $13, 90 points. Plum, cherry and earthy spice notes make up a classic Rioja nose, while this crianza from a hot, dry year feels fleshy and ripe. Dark berry flavors push toward the limits of raisiny on the warm finish. Monsieur Touton Selection. Best Buy. —Michael Schachner
Kirkland Signature 2016 Reserva (Rioja); $7, 89 points. This value-priced winner is about as good and honest as everyday Rioja gets. Earthy cherry and plum aromas are inviting, while this earns points for fullness, balance and appealing flavors of spiced cherry and plum. Drink up. Quintessential Wines. Best Buy. —Michael Schachner
Marqués de Riscal 2017 Arienzo Crianza (Rioja); $10, 88 points. Cherry, plum, leather and tobacco aromas are fairly deep and concentrated on the nose. A hefty palate brings flavors of prune, black plum and green herbs. A chocolate note arises on the finish. Shaw-Ross International Importers. Best Buy. —Michael Schachner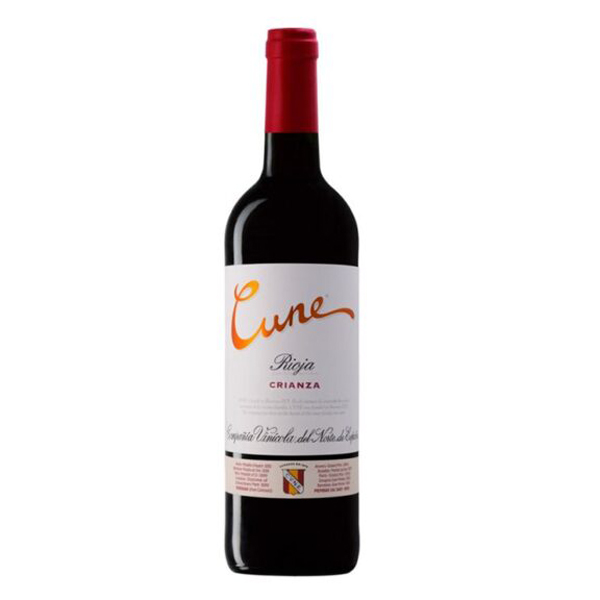 We also Recommend: CVNE Crianza 2017, $13.99
This historic producer is able to maintain quality at scale. "Rioja's often have a Bordeaux-like quality to them and that certainly helps them appear to punch about their weight price-wise since Bordeaux is the all-father of luxury wines," says master sommelier Peter Yeung. 
Learn more: CVNE Crianza 2017, $13.99